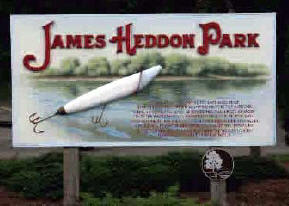 As most of our members are aware, the ORCA National Convention is not like any other fishing tackle show. The ORCA Directors believe there is more to our organization than just a magazine and buy, sell, and trade. The 2003 ORCA National Convention was the perfect illustration. Andy Foster and Jim Madden put together a wonderful learning, social, and eventful outing for all who attended.
What could be more historic than to walk with the ghosts of James Heddon and Jack Welch, as we held our show in the old Heddon Tackle Company building? Maybe having our antique tackle fishing contest in the Old Mill Pond where the legend says Heddon conceived the idea of wooden lures.
Who will forget the beautiful grounds of the Dowagiac Conservation Club, and the wonderful meals served there. Then were was the fantastic seminars conducted by ORCA specialists that provided great learning opportunities for our members.
If you weren't in Dowagiac on May 28-31 you missed a great event in tackle collecting. Plans are being formulated for our 2004 Convention to be in the Seattle-Tacoma area of Washington. Make sure you make that one.
Wednesday
Who were all those people walking the halls of the AmeriHost Inn? Why were all those room doors open? Those were a few of the questions on the mind of one lady who got up on the wrong side of the bed Wednesday morning. She called the cops to complain that there were mysterious people selling things out of rooms in the hotel. Then she complained that there were people talking in those rooms and she couldn't sleep. When offered any room in the hotel to try to accommodate her, she slammed the door in the night managers face so hard that she broke the door jam.
This lady's problem was that there were lots of reel people in town. There was a large number of rooms open for room trading, and bargains were being snapped up all evening. Diane Foster and Becky Gariglietti were manning the Convention headquarters room, and signing in arrivals all evening.
Thursday
The ORCA Antique Tackle Fishing Tournament
With 20 fishermen registered, and many onlookers, this was the largest Antique Tackle Tournament to date. Members caravanned from the hotel, and upon arrival spread out in all directions.
The weather was partly cloudy with a light breeze, which provided perfect conditions for bass fishing. Unfortunately no one told the bass! Of the field of 20 only four contestants caught fish, and they were all bluegills. All were caught on ultra-lite or fly tackle.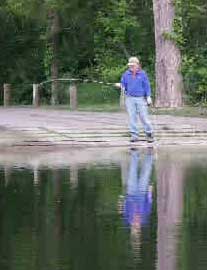 Terry McBurney (photo to left with his first fish) weighed in two gills for a combined weight of 13 ounces to capture first prize. One bluegill was the whopper of the day weighing 9 ounces. Terry was using a small popper fished with a Herter's fiberglass rod, and Pflueger Medalist #1495. He used a 7 weight line. Allen Baracco took second place with two fish that weighed seven ounces. Last year's winner Dan Basore was third with three gills weighing five ounces. Ryan Costello took fourth with his one bluegill. All the other contestants tied for fifth. There were several other members who caught fish, but didn't bother to weigh them in.
Despite the lack of bass, the tournament was a neat experience due to the setting. The park sign (above) reminded everyone of the historic event that took place on the site 100 years ago. Any members who looked at a map were reminded of the angling historical nature of the area by noting the names of the towns in the area – Dowagiac, Paw Paw, Bronson, Kalamazoo, and South Bend.
Carl Schultz, Tournament Director
Victorian Home Tour
While the intrepid anglers were catching little, many other members were enjoying a tour of some Victorian homes in Dowagiac. Joan Lyons guided these ORCAns through the former home of one of the family members of the Round Oak Stove Company, and through her own home. Both these wonderful houses are being restored to their original design and beauty by new owners. The tour was enjoyed by many of our male ORCA members as well as the wives.
After the morning events were concluded everyone gathered at the Dowagiac Conservation Club grounds. The setting was really outstanding. A tree shaded clubhouse, extensive grassy grounds sloping down to a very nice looking lake. The club served an all you can eat lunch at noon time.
Seminars
Bill Muth led off the learning phase of the ORCA Convention, with a seminar on Horton reels. He explained the history of reel making at the Bristol, CT. company, and showed many examples of their work, including boxed Horton-Meek reels. A question and answer period followed the presentation.
Craig Barber, the reel professor as named by one of our members, gave a detailed overview of unmarked pre-1920 reels manufactured by Enterprise Manufacturing Company. Craig had many examples of these Pflueger reels, as they are commonly called. He also gave some details on the reels of E. A. Pflueger, and showed some examples from his collection. Craig's lecture was accompanied by charts of the many Enterprise reels, which will be published in an upcoming edition of a Pflueger Pfacts CD.
As if we hadn't filled our brains with enough information already, Jim Schottenham (above) concluded the afternoon's learning experience with a terrific introduction to Indiana reels. Jim had many examples to view, and gave an outstanding overview of these interesting and often misidentified reels following their development from ancient Chinese reels to those still being manufactured today.
The members adjourned for a break before dinner, and entertained themselves by fishing the Club pond, practicing up for the ORCA Antique Tackle Casting Championship, or just relaxing in the rural Michigan countryside.
Annual Meeting
At dinnertime a large crowd gathered for an all you could eat Walleye and Perch dinner served in the clubhouse. When everyone was stuffed the ORCA Annual Meeting was called to order by incoming President, Andy Foster. Don and Joan Lyons read a proclamation welcoming ORCA to Dowagiac (Don is the Mayor), and the Lyons related the history of the Heddon Museum. Several new ideas were discussed by the membership, and members honored. The minutes of the meeting are published in the ORCA News section of this issue.
Following the adjournment of the meeting the members either returned to the hotel for room trading, took a tour of the Heddon Museum, or viewed Don Lyons collection of antique cars. A full day ended with members prowling the hallways of the AmeriHost Inn, again in search of their special prize or bargain reel.
Friday
Breakfast with the Board
Friday started off with a large crowd met at the Conservation Club for Breakfast with the Board. This gathering allows members to meet and get to know their leaders. Everyone is encouraged to make suggestions, and let the Board know what they like and don't like about our organization. This year we had twice as many members attend as expected (see photo to right). It was a gratifying turnout.
Casting Contest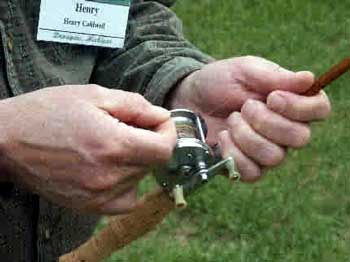 Retired Casting Champion Bill Peters had a gratifying turnout for this years ORCA Antique Tackle Casting Championship. Eighteen members had a try at competing in one or all of the events. After all the scores were tallied, last year's runner-up Dan Basore was declared Champion. The winners of the three events were as follows.
5/8 ounce Non Level Wind: 1st – Basore; 2nd – George McCabe; 3rd – Jim Madden. Basore's tackle in this event consisted of a light 6′ Heddon bamboo rod and a Jack Welch tournament reel.
5/8 ounce Level Wind: 1st – Basore; 2nd – Madden; 3rd – McCabe. In this event the winner used a Silaflex fiberglass rod and a Shakespeare Sportcast reel.
1/4 ounce Spinning: 1st – Dennis McNulty; 2nd – Basore; 3rd – McCabe. McNulty borrowed Basore's outfit to cast in this event (and beat him). It consisted of a Pflueger fiberglass spinning rod and an early ABU Cardinal spinning reel.
Reel Throw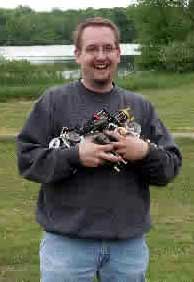 The casting events were followed by the third Annual Stu Lawson Reel Toss. This year there was an abundance of reels that needed to be tossed, and anyone who wanted to throw had their chance. And a large number of ORCAns heaved automatics, baitcasters and fly reels through the Michigan morning.
Last year's winner Ryan Costello let loose with a thundering toss, which went over a slight dip to the lake, and took an early lead. However, Paul Mortenson also winged a junker over the lip of the dip, and the prestigious title of Champion reel tosser was in doubt. After everyone had thrown their reel we all walked out to see where the reels had ended up. It could soon be seen that two reels lay far beyond the rest of the bunch. Paul and Ryan identified their reels, and we found that Paul Mortenson was the 2003 Champion. As a reward he then had to haul off all the reels thrown in the contest (see photo). He has promised to assemble them into a free standing work of reel art that can be displayed at future conventions.
By the time these activities had ended, it was time to eat another all you can eat lunch. A group of hungry reel people devoured a large lunch.
Afternoon Seminars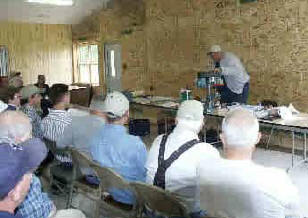 Following lunch most members gathered to hear Col. Milton Lorens (right photo) discuss tips and methods of reel repair. Milt illustrated his lecture with his large collection of tools and products used in his repair business. He even brought along his drill press to show how he engine turned the finish on a reel (as shown above). A question and answer period followed.
A stump the experts discussion of unknown reels followed the repair seminar. Many reels were examined and those in attendance arrived at a consensus as to the makers.
A short recess followed, with some members setting up the tables at the Heddon factory building for the show, while others returned to the hotel to relax or renew their room trading. At dinnertime, everyone again convened at the Conservation Club for a roast pig dinner. Again this was all you can eat with all the trimmings, and everyone went away from the table more than satisfied. At the conclusion of the meal, the Conservation Club cooks were given a huge round of applause, and ORCA made a nice donation to the group.
Show & Display Set Up
After dinner the people who had reserved tables gathered at the Heddon factory to set up their sale and display tables. The room was packed and an overflow extended into another part of the building. Many high quality reels changed hands during the evening. Everyone had a good look at the displays and the reels offered before adjourning for the evening.
Saturday
The Show & Auction
The show opened at 8 AM, and the public started filing in. No one had anticipated the amount of tackle that would be brought in to be auctioned off to our members. Bill Muth called the auction, starting at 9 AM and he finally laid down his gavel at noon. He was assisted by many members.
Well known employee of several tackle manufacturers Tryg Lund brought in over 200 reels to be evaluated for the auction. Many of these reels were auctioned, and quite a few were early samples purchased by Heddon, or other items from various archives. Most of the remainder of the Lund reels were offered for sale during the show.
Along with reels, there were some quality lures and miscellaneous tackle items sold, and a few rare Heddon bamboo rods came in the door and brought high prices. Even though things became a bit crowded and hectic, it was a rewarding auction for those who participated.
Display judging
Throughout the morning the three member judging committee of Len Sawisch, Joan Lyons, and Craig Barber (shown below) evaluated and graded the many outstanding displays. Will anyone ever again be able to view the number and variety of Indiana reels as that displayed by Jim Schottenham, Larry Moellman and Dwight McKenna. I doubt it. Will you ever see as many boxed Heddon reels, including two with serial number 1, and one numbered 2, as shown by Randy Gariglietti. The list goes on and on of the outstanding reels that were put on display by ORCA members.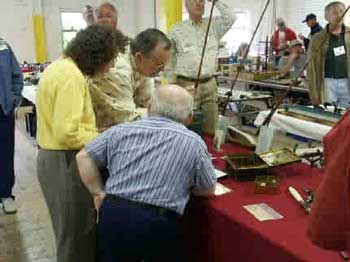 All entries are scored on a point system devised to include the historical significance, presentation, and quality of the display. This year ORCA had the largest number of displays in any convention, and the judging was the closest on record. After the fourteen displays were all scored, and the results tallied, Reel News Editor Phil White came out on top for the second year in a row. His display of Bass Fishing Tackle, 1850-1900 featured rods with matching reels that ranged from an 11.5 foot greenheart rod with brass New York style S handled reel, a Chubb Henshall rod with Vom Hofe black bass reel, up to an original Bristol telescopic Henshall style rod and a Meisselbach Expert reel. There were several other rod/reel combinations in the exhibit to illustrate various periods of use. Also included was an 1800's tackle box with tackle, and a minnow bucket from the period.
The wonderful exhibit of Indiana Reels from the combined collections of Jim Schottenham, Larry Moellman and Dwight McKenna filled three tables, and displayed reels that most of us have never seen. It is shown below. Featured was a Chinese reel of the Indiana style from the turn of the century. This outstanding display took 2nd place.
A display of Heddon reels presented by Dave Erickson was the 3rd place winner. It was nicely presented, and featured some very rare Heddon reels.
By 1:00 everyone had enough, and the 2003 ORCA National Convention drew to a tired, but happy, close. See you all next year.