With the majesty of Mount Rainier overseeing the festivities, ORCA members from throughout the country and even foreign countries enjoyed four days of great fun, learning, and fellowship.
The Best Western Conference Center in Fife, Washington, an extension of the bustling city of Tacoma, was the base for four great days planned by Tom Harwood. Tom, a long time ORCA member, and past President of the organization, kept up his normal, and seemingly unorganized, frenetic pace for all four days, and pulled off the 6th annual Convention in grand style.
There was an unusual antique tackle fishing tournament on the beautiful waters of American Lake, 15 miles south of the headquarters. There were terrific seminars where all in attendance must have learned something, or were in stitches, and food in a nice setting at ORCAs member's dinner and Breakfast with the Board. There was a fabulous salmon barbecue under the shade of 100 year old Douglas Fir trees where we had so much food available, that it reappeared as salmon dip with crackers, fruit and raw vegetables again that evening. And then there was a show with fine displays and plenty of wonderful reels for sale or trade that should have weighed down every member's luggage for their trip home.
Most of the ORCA Board was in attendance and they got to meet previously unknown members from the Northwest, and visa-versa. Many new members became exposed to the ORCA concept of a fun weekend spent dining, fishing and learning together, rather than just wandering from room to room.
It was a blast!
A Gathering of ORCAns
Members started arriving on Tuesday, June 1 and there were some rooms open for inspection that evening. Wednesday was busy all day with many ORCAns reaching the hotel in the morning and finding their rooms ready and waiting for them even though it was prior to check-in time. The count of open rooms began to mount throughout the day, and people were seen scurrying from room to room all day long. ORCA Secretary-Treasurer Roger Schulz, President Andy Foster, and Tom Harwood started registering those in attendance by late afternoon, and it was soon evident that this convention was going to draw some new members from throughout the Northwest.
The Fishing Tournament
An intrepid group of ORCA anglers followed Tom Harwood to American Lake, which was approximately 15 miles south of Fife. The group gathered at an old fashioned boat rental and fishing dock for prefishing instructions and partner selection. American Lake is a beautiful, large body of water mostly surrounded by summer cabins and year round homes. There are a great many docks along the shoreline. It is populated by bass, bluegill, perch, trout (some of which are apparently huge), and an abundance of rock bass.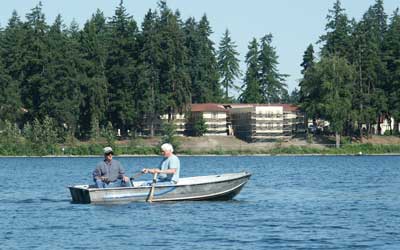 Due to the diversity of species, Tom came up with a novel and interesting scoring method. Each fish landed in the largest quantity would be worth one point. The second largest species catch would be worth two points, and the third three points, etc. Only Tom and rocket scientists seem able to comprehend the scoring system, but all the contestants were willing to give it a try.
There was an island directly across from Bill's Boat Dock, and most of the fishermen weighed anchor and headed west to those alluring shores. Amidst the grunts and groans of rowing to the island were lots of smiles at the beautiful morning. Dick Streater and Hal Schlegel were manning their personal fishing boats in case anyone wanted a tow to any part of the lake.
As it turned out the winning team of Alan Baracco and Jim Madden spent the whole morning circling the island and came up with a catch of rock bass, perch and bluegill to total 15 points. Most of the fish hit Jim's old Inch Minnow cast with a spinning rod and reel.
Host Tom Harwood and his partner Harvey Musselman almost stole the show as they brought rock bass, perch and a trout to their boat for a total of 14 points. Tom tried to snag a pesky sculpin that followed his Flatfish to the boat (which would have been worth 4 points as his fourth species) but it was all to no avail.
Bill Land and Phil White landed a nice catch of rock bass, but were handicapped by not following up with any other species. These mighty fish were landed with a small hair jig and an old Airex Preska Perch spinning lure. Dan Brock fished alone with his antique fly tackle since no one wanted to endanger themselves from his back casts. He landed several trout. Andy Foster and Randy Gariglietti had a small catch, but almost did land a mallard drake. Brian Funai and Clay Hood tried for largemouth bass with heavier tackle and did see one dandy, but mainly enjoyed the scenery.
It was a great morningyou should have been there.
Thursday Seminars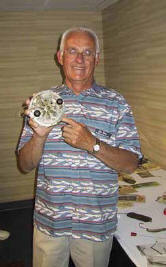 Pacific Northwest salmon fishing historian and salmon plug expert, Jim Lone of Seattle (shown to the left), started off the afternoon with a very interesting discussion of salmon fishing history and techniques. The evolution of fishing methods was presented along with examples of the tackle used for the various fishing techniques. Jim's talk was quite interesting as many out of area members had never seen the tackle which is localized to the Northwest.
Reel News Editor Phil White gave the second seminar of the afternoon, discussing his collection of American made pivoting spinning reels. The history of this type of spinning reel was outlined and illustrated with samples of historical foreign reels of this type. Phil then showed his examples of the known U.S. production pivoting reels. Reels included those of the pivoting, pop-up, pencil sharpener, and pivoting line guide types.
Paul Mortenson, ORCA Web Editor, presented a talk about how to search the web and eBay to get the most from your searches. Paul showed how to use wild cards and asterisks to pull in information. Lots of good suggestions and information came forward during this discussion and everyone who uses the internet should have benefited. Did you know that you can now tell how many people are watching your item on eBay? If not, you should have been there.
The ORCA Membership Dinner
Thursday's organized activities concluded with the ORCA Annual Members Dinner at the Convention Center. The roast pork dinner was followed by the Annual Meeting chaired by President Andy Foster. There were reports on the current Convention activities, the health of ORCA's finances, The Reel News, and the upcoming 2005 ORCA Convention. This dinner was well attended.
Friday Off to the Park
Friday morning saw a caravan of ORCA vehicles head for a public park on American Lake. All went well until we arrived to find the gate to the parking lot padlocked. Twenty-one cars stacked up in a snake that extended around two corners and made a big U. After a phone call to those in charge produced no response, a sympathetic neighbor appeared with a pair of bolt cutters. One link was removed from the chain and we all headed for the park and the first event of the day.
The Antique Tackle Casting Contest
This contest is divided into three events with a perpetual trophy to the overall champion. Harvey Musselman was chairman of the contest and did a fine job.

The overall winner of the ORCA Antique Tackle Casting Contest proved to be ORCA Director Jim Madden of South Bend, Indiana (casting in this photo). He combined winning scores in the Level Wind Casting and Spinning events to edge Reel News Editor, Phil White, by one point. Jim compiled a total of 269 points out of 300 in the three events.
Oregon collector Clay Hood, using a Meek #3 Tournament reel and a custom bamboo casting rod, and Phil White tied in the opening Non Level Wind event. Phil cast with a Montague custom tournament reel and a Silaflex fiberglass rod. Each scored 93 points.
Jim Madden came back in the Level Wind Casting event to win with a score of 93. He was casting with a South Bend 60C reel (naturally), and a True Temper four sided metal rod. The latter was a replacement for his usual Shakespeare bamboo rod when Jim was informed that due to the length of the Shakespeare he would have to pay an extra $50 to take it along. So much for loyalty. Clay Hood trailed by one point to land in second place.
The Spinning event again revealed that it is a lot harder to be accurate with those fixed spool reels. Madden again was the winner, but his high score was only an 86 out of 100. Tournament director Harvey Musselman and Phil White tied for second with scores of 84. In this event, Jim's outfit consisted of an older Cardinal 4 reel and a 6 foot Heddon fiberglass rod.
The Stu Lawson Ugly Reel Throwing Contest
As Stu pointed out in the last issue of The Reel News, anything goes in this traditional event. The object is to see how far you can propel one of those ugly reels that has been disgracing your table for all these years.
Several years ago, Harvey Garrison introduced ORCAns to the David and Goliath sling method of throwing a reel. The same year Phil White planned to shoot a Snoopy spincast reel with a NASA made rocket, but it was confiscated at the Boise airport. The following year found young Ryan Costello showing little initiative but lots of arm strength to out-throw the crowd.
The 2003 contest found Paul Mortenson again using arm power (of all things) to produce the winning throw.
The 2004 contest found a new and innovative way of winning the event. Phil White sneaked into the winner's circle with a prodigious heave in a unique manner. Since this old geezer no longer has his Nolan Ryan throwing arm, he cast a Bronson reel trailing red curly streamers with a custom built 11 foot surf reel to best all comers. Unfortunately, the reward for winning was the removal and disposal of all the reels thrown in the event. One curious cast iron reel (?) provoked a lot of interest, and contest originator Stu Lawson even tried out his old discus throwing technique with that implement as you can see in the above photograph.
A Luscious Salmon Barbecue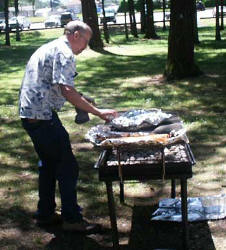 After the exertion of the Ugly Reel Throw, ORCA members followed the wonderful scent trail to the picnic area where show host Tom Harwood was presiding over the cooking of some fresh Northwest salmon (see photograph). Served with the salmon were several salads, fruit, garlic bread, veggies with dip, and some mouth watering desserts. It was a great feed.
There was so much wonderful food that even the ORCAns couldn't finish it all, and some was provided later that day during the set up and first evening of the show.
Friday Seminars
Following the salmon barbecue Tom Harwood took off his cooks hat long enough to discuss Northwestern reel makers and Lenz reels in particular, in the first Friday seminar. Tom has an extensive collection of these reels which are seldom seen in other sections of the U.S. Although many of these reels were designed for salmon fishing there are quite a few others that are unique fly reels. Included in Tom's display was an extremely rare Boyle's Automatic Reel, patented in 1898 by Fayette Boyle of Tacoma, Washington. This reel looks like an alarm clock with no face.
The concluding seminar of the convention was a change of pace. Dick Streater of Seattle (left photo) kept the crowd in stitches with his display of unique and weird fishing items. From human powered trolling motors to an old geezer crutch that doubles as an aid to keep the dribbles off your shoes when geezers have to use the urinal, Streater had something for everyone. Dick is the Northwest Regional VP of the NFLCC and we were happy to have him in attendance. He has been a member of ORCA for several years now.
The ORCA Show
Friday evening members gravitated to the nicely lit show room for the concluding events of the ORCA Convention. There was a great representation of quality reels of all types and everyone seemed to sell or buy well (or both), whichever was their intention. The show resumed on Saturday morning with the public allowed in free of charge.
The Displays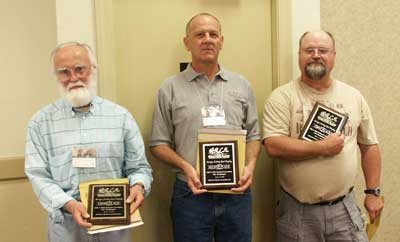 During the show a three person panel of judges evaluated the dozen displays. They are all judged on a criteria that was established many years ago, which includes educational value, labeling, quality of reels, and other factors that go into producing a display rather than just a jumble of reels.
This year's winner was Bill Land with his display showing the development and representative examples of the Meisselbach Featherlight Reel. Bill's display is pictured above. Other outstanding displays that won awards were Dave Erickson's display of Malleson reels, and Jim Wiegner's display that illustrated in words and photographs why we fish and join ORCA. The three winners are shown above – from left: Jim Wiegner, Dave Erickson, Bill Land.
The Auction
Several very nice lures, a few good reels, including a Heddon 3-25, and a fine Phillipson bamboo rod came in the door (among other items) and all were auctioned off to the members. The auction allows the consignee the right of refusal if he does not feel the winning bid is high enough.
The Conclusion
Things drew to a close around noon-time on Saturday and those who had driven to the Convention headed for home. Several members who had flown to Seattle had return flights that didn't leave until Sunday morning. They jointly rented a car and toured some of Seattle's many points of interest.
All who experienced the 2004 ORCA Convention should have concluded that the ORCA leaders have provided members with something special. The Convention has been moved around the country to provide our members with the opportunity to tour various areas and experience the fellowship that fishing together, eating as a group, and just having a good time talking reels with other members can provide. If you haven't yet attended an ORCA Convention, you've been missing something.
Start thinking now about Houston, Texas in 2005. We all know that everything is bigger and better in Texas, and our Texas members will show you a great time.
Information & Photos by: Paul Mortenson, Roger Schulz, Tom Harwood, and Phil White